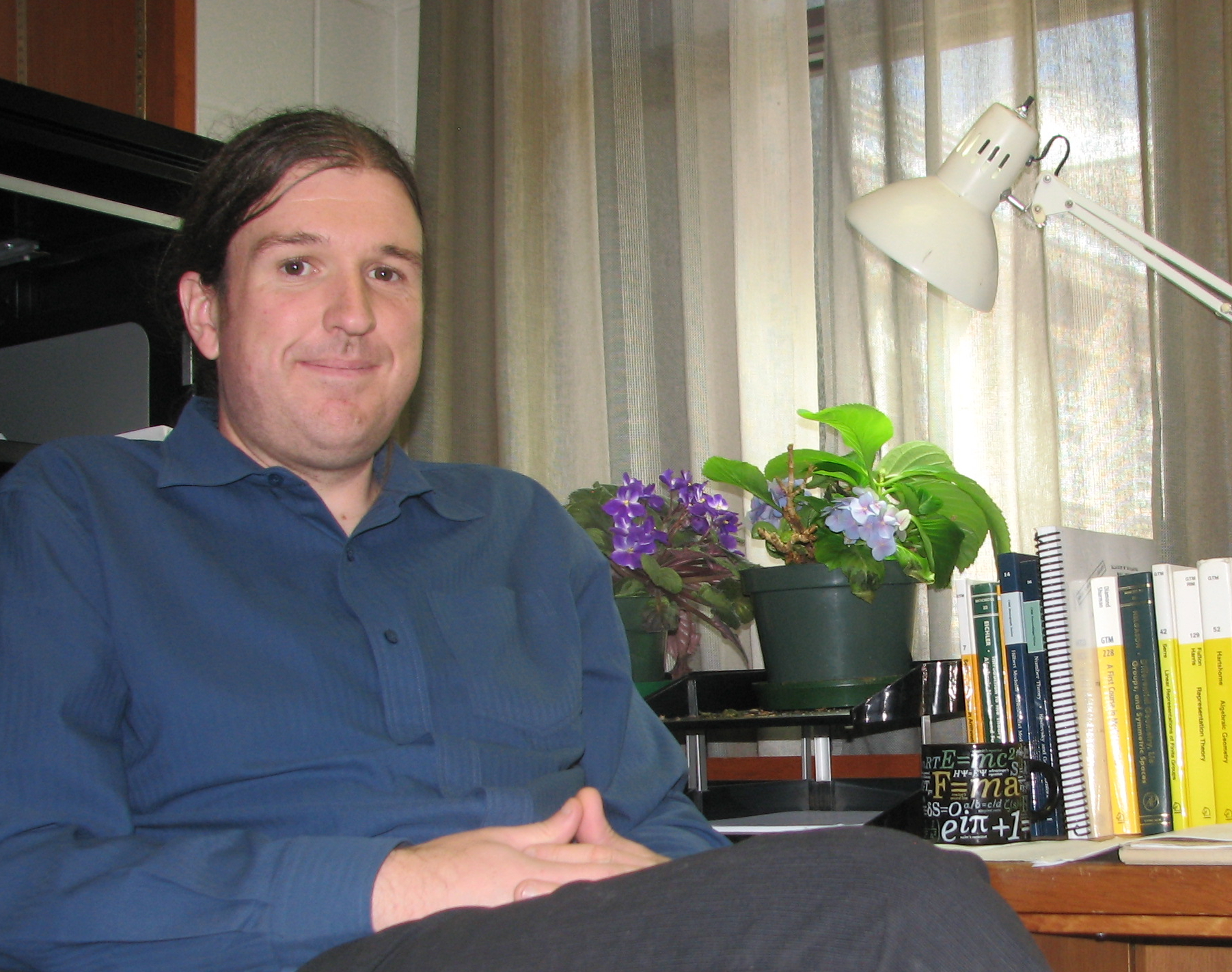 Andrew Fiori
This is Andrew Fiori's University of Lethbridge website.
My @uleth.ca email address is andrew.fiori@...
My office is C546.

Information about my teaching is here.
---
About Me Academically:
My primary area of research is number theory. Many of the problems I have been investigating, though they find their original motivation in the study of orthogonal Shimura varieties, are not strictly confined to this very specific area. My interests naturally include Shimura varieties, Automorphic forms, Algebraic Geometry, Algebraic Groups, Orthogonal Groups, Lattices.... I am sure I am forgetting things.
I am currently a term faculty at the University of Lethbridge, I started here in the fall of 2017.
I completed a two year postdoctoral appointment at the University of Calgary from 2015-2017.
I completed a two year postdoctoral appointment at Queen's University from 2013-2015.
I defended my Ph.D. Thesis in June (2013). I did my Ph.D. research at McGill University under the supervision of Prof. Eyal Goren on problems in the theory of orthogonal Shimura varieties.
I hold a Masters degree in Number theory from McGill (2009) and an Honours degree in Computer Science and Pure Mathematics from the University of Waterloo (2007). I have about 24 months work experience as a software developer.

My CV can be found here.

My publications and preprints are here.

Other miscellaneous slides and notes are here.

---
About Me:
I grew up in Nepean (an amalgamated suburb of Ottawa). I can, and on occasion do, speak French. I have been to all the provinces of Canada, I have not yet visited the territories.

Outside of Academics I enjoy many things:
Biking (to far away places), Hiking (in pretty places), Climbing (up walls and cliffs), Scrambling (up mountains), Skating (when global warming hasn't ruined winter), Sailing (though it is better with wind), Swimming (or getting crushed by waves), Board Games (construction is fun, but normally these are made of cardboard), Computer Games (took 10000+ fish for a turtlemount), Plants (many theories exist as to why they were in my office), Baking (especially chocolate things), Camping (even when the tent is tiny), Cottages (especially when others are there), Fixing Things (Even if sometimes they end up more broken). Sometimes I even like Shoveling (it is a good way to keep warm). Not such a fan of what was happening to my head here (but the rest of that week was fun).
When I get around to it I may add some more links and things here.
---
Programming:
I used to program fun things back when Java was still cool. Here are some of the games I made with other people for courses:

---
It is my understanding no website is complete without bunny and cat pictures, these can be found: Cat and Bunny .
---