Computer Graphics-A3710
Student: Joilson Silva
Student Number: 001182996
Professor: Dr. Stephen Wismath
Computer graphics Project
Purposal
Since the proposal made in class, i.e, Use 3D modeling software to produce a high quality ray traced image of some small 3D, this study aims to model a soccer ball using Blender graphic software
Introdoction
Blender
Blender is a graphic software that may be considered a non-intuitive software, requiring the user at least a basic knowledge of the tool. For example, most of the main functions of this software run by shortcut keys, which unable the use of the software by users who have never dared before.
Challenges
The first challenge is how to turn a square in the desired format. The first thing that it is needed to know is that Blender has many others objects beyond the square. However, to use of these objects the user needs to enable this function. Another challenge faced in the use of this software was how to move the object, especially when it is working without a mouse.
Another Challenge that I faced is related to the rotation. By default, when you spin the vision as described in the Vision Rotated, you're spinning your scene as you are rolling your hand through a "trackball". For some users this is intuitive, for others it is not already. I had a hard time to understand that. So, I use the style of "Turntable" (Turntable), but is used to get a more accurate rotation, i.e, more freely as the mouse coordinates.
My model
Although modeling a soccer ball looks very easy, it can cost you a lot of time. If we consider the details of a ball as your stitching, size and colors, we can see that modeling a ball is not as easy as we think.
First, you need to work on that image turning it in the desired object, once the original object is not properly, what you need. See below, an image without been modeled. It cannot be easy if you are not familiarized with the software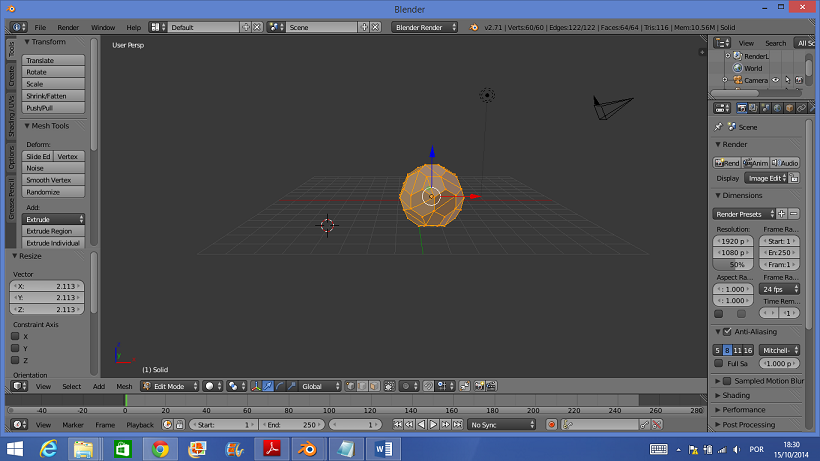 Now, look the object after modeling.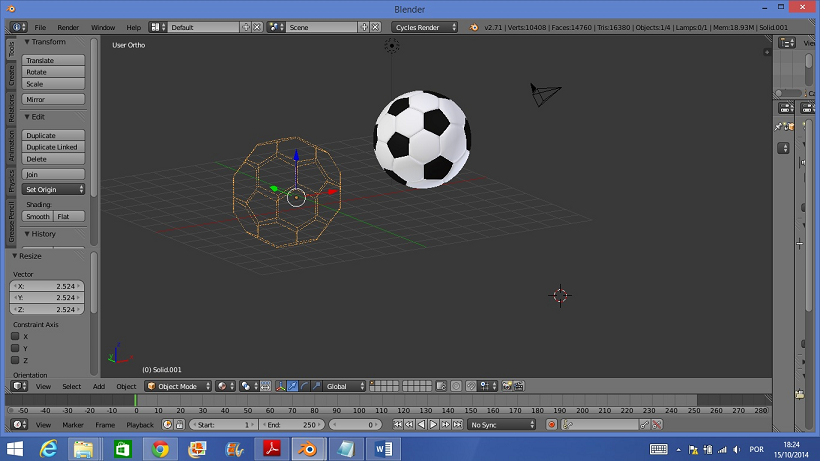 In conclusion, after modeling the gross object, everything that you have to do is to work on the details to get the result as you can see in the image bellow.