City Hall of Lethbridge

This is the City Hall of Lethbridge in the south side. The only difference between the real city hall and my picture is that I have excluded the fountain in front of the city hall.

This picture is made up by simple structures like boxes, cylinders and planes. Most of the buildings are cylinders. Only the building in the left hand side is drawn using boxes.
Vertical lines (windows) are drawn using boxes. Horizontal lines (windows) are drawn using cylinders. I added some textures to the floor, the frame of the door and the windows in the tallest building.


Here is my pretty picture: (thumbnail)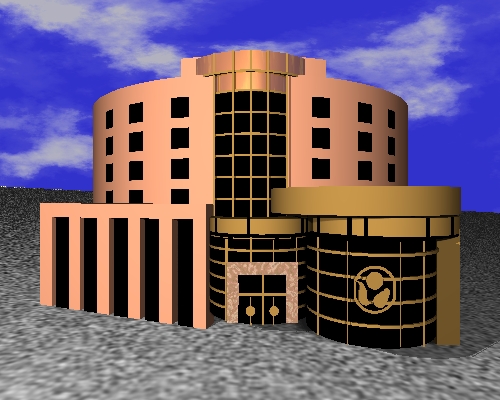 To view in the actual size click picture in jpg.

For the better quality, please view the picture (download it) using the xv (to open it) in my public_html directory.