Introduction
My project file made by 3DMax and Poser. These are really famous in this field and support ing lots of effects and tools. Especially, I used Photorealism of 3DMax and Poser 6 - Poser 6 and 3dMax allow we to quickly design and pose pre-rigged figures, or create original figures to suit our needs. With professional lighting effects and shading materials, a large library of content and photorealistic textures, so we can create professional-quality imagery

Creating process
I tried to draw Art gallery because creating formative art stuff is relativly easy to compare to other figures. So, I used some 3dMax lighting example and creating several simple modelings. And using the Poser 6, creating several high quality human modelings. Until this works looks Ok to me. But next step was coming out lots of problems such as importing / exporting problems and transforming problems.
First, I made simple 3D boxes and balls in 3Dmax and also used supported figures. And then cutting and trimming the boxes or balls. One of creatures is just copyed and pasted from first ball modeling , and then re-scaling the balls. The gallery is drawn by several boxes and s-lines wall. It merged each other and then trimed inside for making space.
Second, using poser 6 I draw several human figures. When we initialize poser, it will give you human figure automatically. I need several people so I drew two females, one male , and one girl figures. Choosing supported clothes and hair styles, and then bending the lots of joints for proper pose.
Finally, texturing every single figures properly, then importing / exporting to 3DMax and Poser each other. Moving camara angles, giving lighting effect and then applying perspective viewing in 3DMax.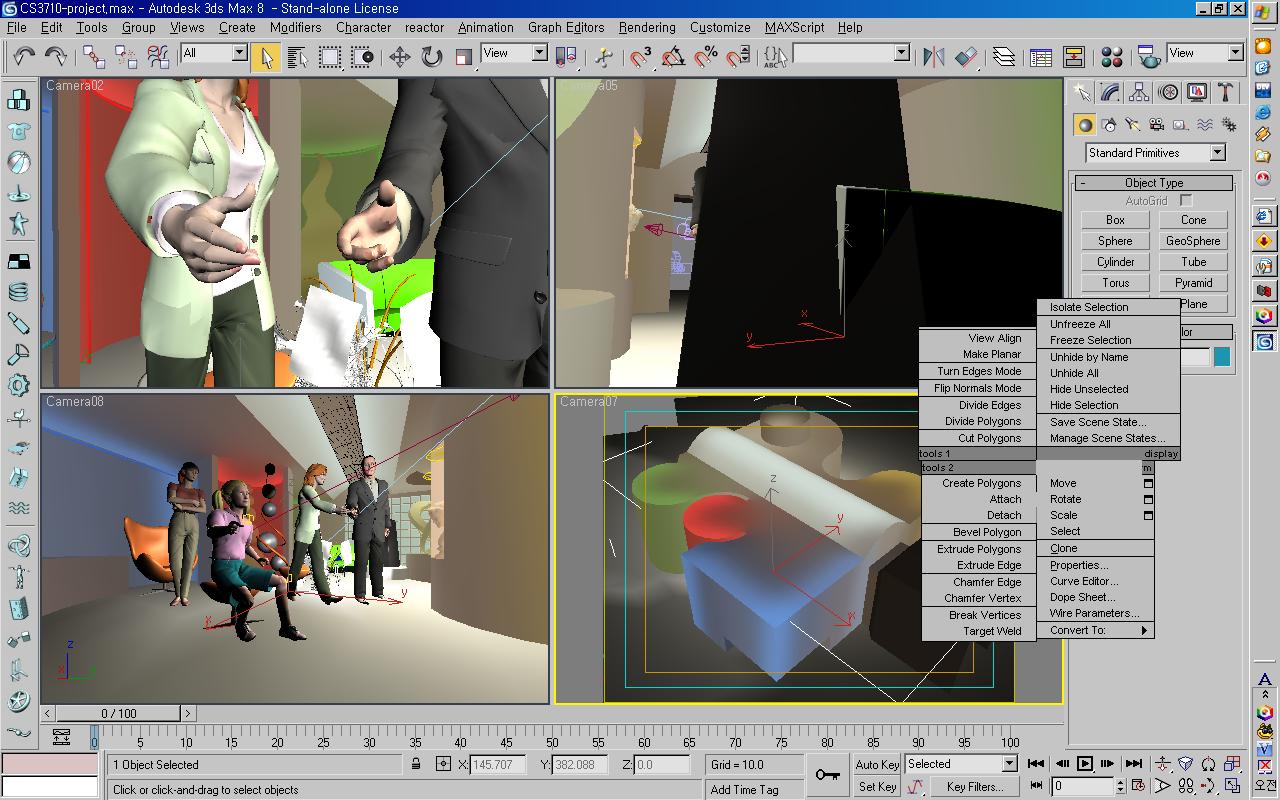 Major difficulties
The major problems are
1. Importing and Exporting problems - it doesn't support high-res figures between 3DMax and Poser and doesn't support to export solid model in poser.
2. These software are version senstive - so it doesn't allow to edit properly low-version figures
3. Moving and Rotating problem - especially when human figures exported from poser to 3DMax , each body parts and joints exported separately. This causes moving and rotating problems. I should select over hundred body parts properly such as fingers, several joints , etc to transform another place that I wanted. If not, whole body was destoryed.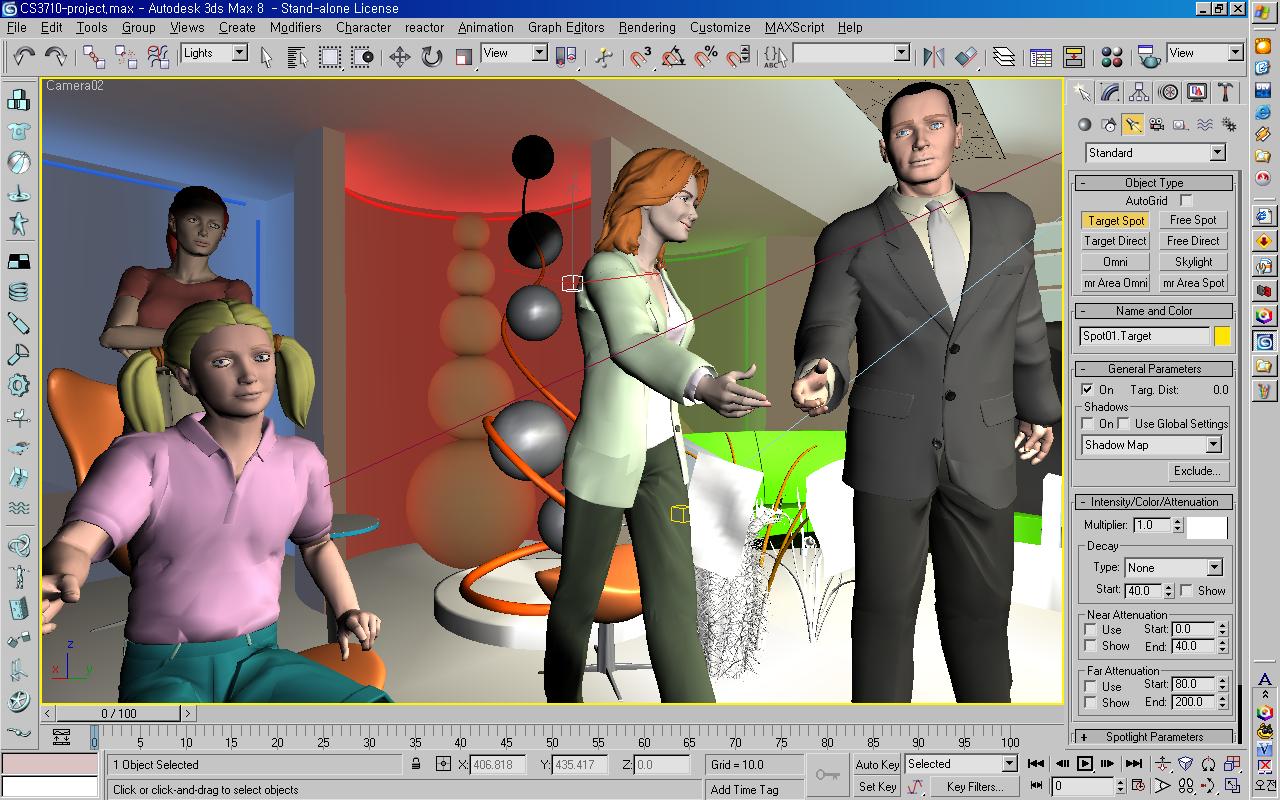 Here is a result of ray-trace in my project.
RayFX Raytrace Engine v5.02
(c) 1998-2000 Blur Studio Inc.
---------------------------------------------------
Waiting for trace request...
frame 0: initializing...
Processing 282 objects...
Initializing data structures...
Building Hybrid Tree - arrayDim:[49,5,42], voxSize[25.0735,27.9366,24.947]
precis: 4, maxdim: 30, maxdepth: 8, itemslimit: 10
sceneBBox = min[-491.76,-47.7404,-614.542] max[736.842,91.9428,433.233]
allocating 164640 bytes for initial voxel storage
allocating 246960 bytes for initial voxel bounds storage
initializing voxels...
populating 10290 Voxels with 282 objects...
max faces per voxel: 29173
max depth reached: 1
Scene processed - found:
282 renderable objects
321747 faces
Frame complete.
Rays traced: 22208595
22208595 fast occlusion rays
3467686 retest success rays
8829385 retest fail rays
---------------------------------------------------