For this project I used AutoDesk 3D Studio Max 9, as I already had it on my computer and had be playing with every now and then trying some simple tutorials from the web. I started off with trying to model the Lethbridge Viaduct ( the high level bridge ) but after a few attempts that I wasn't impresed with I decided to model a CF-100 "Canuck" jet. There are two of these aircraft (that I know of) in Southern Alberta one at the Calgary AeroSpace Museum, and the other is at the Nanton Lancaster Society Air Museum. Using images of both aircraft and some other pictures of CF-100 aircraft I proceeded to start modeling.
The Avro CF-100 at the Calgary AeroSpace museum. Photo by William "Bill" Zuk and is in the public domain.
The hardest part of this project for me was figureing out how to texture the model. Many of the tutorials I found would only show how to make the texture in the meterial editor and not how to apply the texture to the model and some of them were not complete and skiped a few steps. In the end it turned out to be really simple ( drag the material from the material editor to the the oblject you wanted to texture ). For the texture I decided to go with something that looked like the the CF-100 at the Calgary AeroSpace museum which is painted like the prototype of the CF-100 even though it is a mark 3 version of the aircraft. Unfortunately I could not figure out how to get the white stripe/lightning bolt part of the paint into the texture. At one point parts of the hydraulic cylinders in the model ended up with a texture that was basicaly a mirror and at that point when the sceen rendered they would look like they had the texture of the grass bellow them and the plane above them. The grass was made by creating a plain and applying a bump maped green texture using a noise map for the bump maping. The sky was made by using a tube with a blue swirl texture because my attempt at using a sphere for the sky did not go to well ( the texture didn't show up on the inside ). Lighiting in the sceene is provided by a sinble mr omni light source in various positions depending on the picture.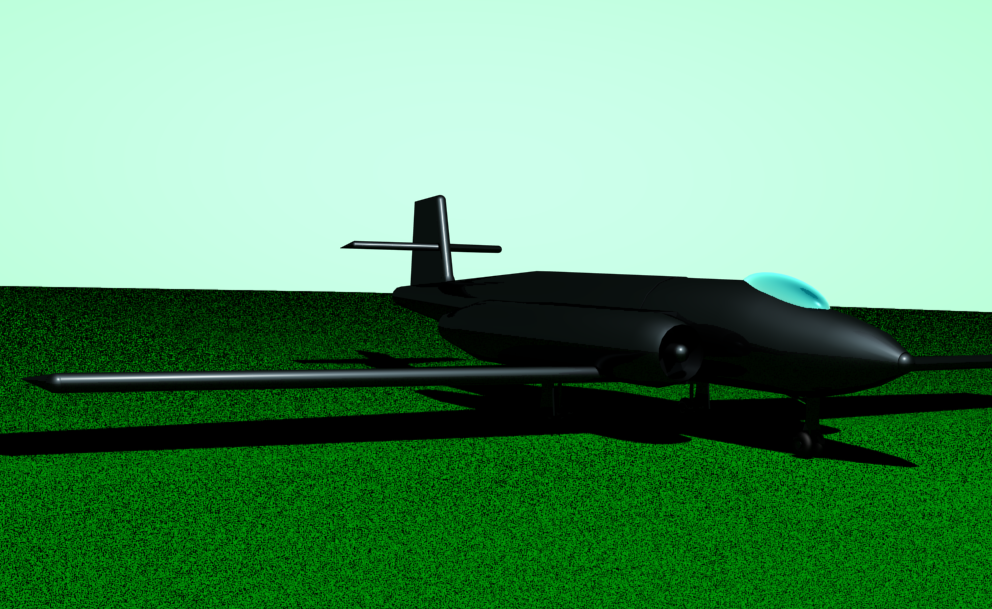 The CF-100 rendered from just above ground level.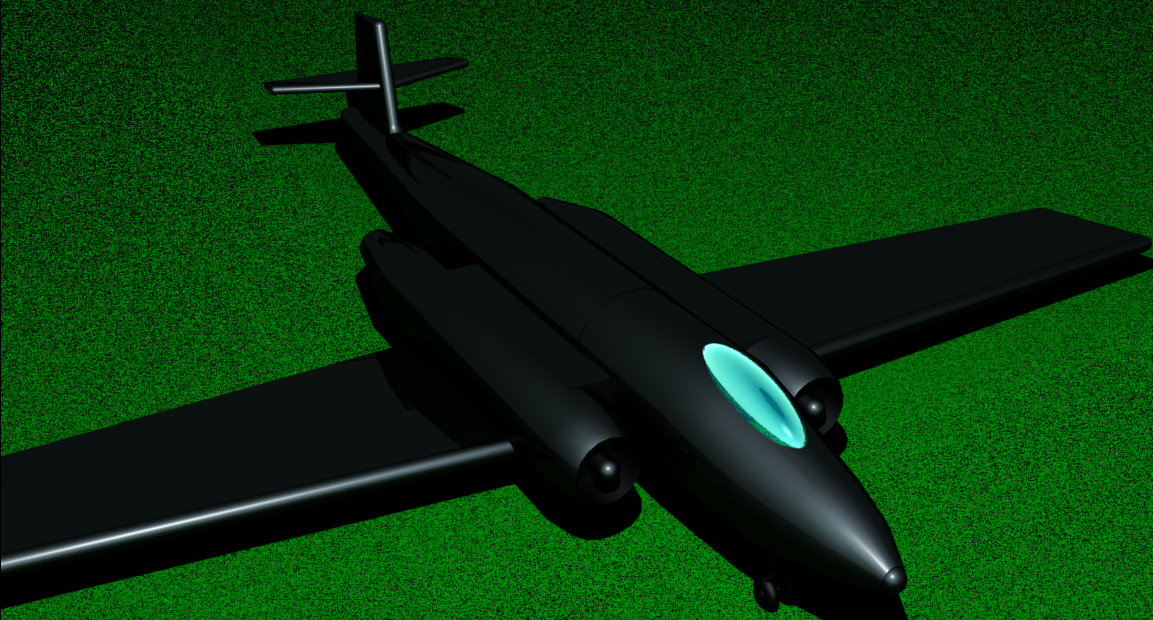 Cf-100 from above and a bit closer, showing the reflection of the sky and a bit of the ground in the canopy.