Note that scenic Waterton National Park in the Rocky Mountains, about an hour and twenty minutes drive south-west of Lethbridge, is a highly recommended outing for those wishing to extend their stay with some pre or post workshop sightseeing.

Head-Smashed-In Buffalo Jump, a UNESCO World Heritage Site located just outside of Fort Macleod 30 minutes west of Lethbridge is also highly recommended.

Writing-on-Stone Provincial Park about an hour and a half south-east of Lethbridge has petroglyphs and pictographs, and some impressive the sandstone hoodoos.

Glacier National Park is just an hour and a half south-west of Lethbridge, for those willing to brave the surly American border officials. Going-to-the-Sun Road in the park is one of the most scenic roads in the U.S. North-West but it is only open from late May to early September (consider the free park shuttle available from the visitor center at the east park entrance).

In Lethbridge, the Nikka Yuko Japanese Gardens are a top attraction, as well as, Indian Battle Park and Fort Whoop-Up Interpretive Centre in the river valley down from the University.

To register, or update or cancel your registration:

Registration closed!

The registration fee for the meeting will be $50 in cash collected at the meeting.

This is the approximately 10 page handout for the meeting consisting of the title page, schedule and abstracts.

If you have questions please send e-mail to Hadi Kharaghani at kharaghani at uleth dot ca or write to:

  WCLAM (Western Canada Linear Algebra Meeting) 2012,
  Dept. of Mathematics and Computer Science,
  University of Lethbridge,
  Lethbridge, Alberta   T1K 3M4
  CANADA

  FAX:            (403) 317-2882

Bookmark for this website:

http://www.cs.uleth.ca/WCLAM

See here for list of participants.

Select your preferred group photos:

Many thanks to everyone!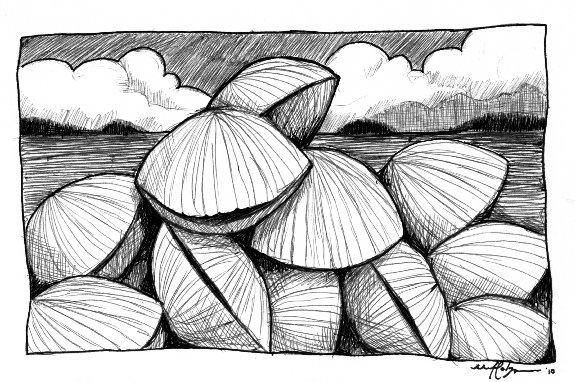 "Clams" by Nico Holzmann (C) 2010 December 17
Page top image: Snowpatch, Bugaboo and Howser Spires from Rockypoint Cr., Brisco B.C. August 2010 (C) W.H.
Last update:
2013 November 22