Shelly Wismath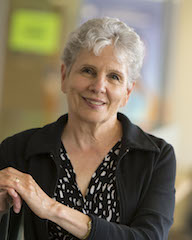 Dr. Shelly Wismath,
Dean of the School of Liberal Education
Professor, Mathematics and Liberal Education
University of Lethbridge,
Lethbridge, Alberta,
Canada T1K-3M4.
Office: A812J Phone: (403) 329-2529
e-mail: wismaths@cs.uleth.ca

&nbsp
BACKGROUND: B.Sc. (Queen's), M.Sc. (Simon Fraser), PhD. (Simon Fraser).


MATHEMATICS RESEARCH INTERESTS:
My research is in the area of Universal or General Algebra. This involves the study of arbitrary algebraic structures, called algebras: these are sets of objects with some operations on them, which satisfy some rules or laws or identities. I am interested in the structure and complexity of both algebras and the identities they satisfy. This includes the study of special identities such as hyperidentities and k-normal identities.
RESEARCH ON TEACHING AND LEARNING:
My research interests also include work in SOTL, the Scholarship of Teaching and Learning. I am particulaly interested in the teaching of Liberal Education, critical thinking skills, problem solving skills, and quantitative skills to non-math, non-science students. I have designed and regularly teach a course called Problems and Puzzles (Liberal Education 2200), and much of my research uses this course as a "research lab". For more information, see the Problems and Puzzles link!

A complete list of my publications, including work in progress, is available here.
***********************************************************************************************

SOME INTERESTING LINKS:

LINKS TO PUZZLES (AND A FEW JOKES): See For a list of good links.

Women in Mathematics page.

Some good links on Careers in Math: Science Web CMS/Regina Quilt

*************************************************************************************************